Speed Up Your Product Research with this Amazon Seller Chrome Extension
Chrome Extension
Find and validate Amazon FBA product ideas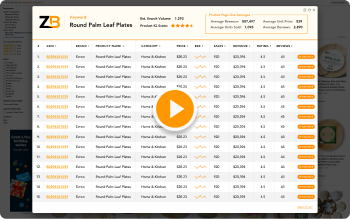 Watch the video >
Get The Most Accurate Amazon Sales Estimates
ZonResearch Allows You To See Behind the Amazon Products Page.
See Product Data At A Glance
Direct Amazon
connection
In one click, the Chrome Extension uncovers the Amazon results page. It gives you sales estimates and data projections in real-time.
Validate Your
Product Ideas
Uncover the last 12 month sales history PLUS the top keywords each product ranks for.
Assess a Product's
Potential in Seconds
Quickly validate or eliminate any product idea by comparing Page One averages as well as the Search Keyword Smart Score
Frequently Asked Questions